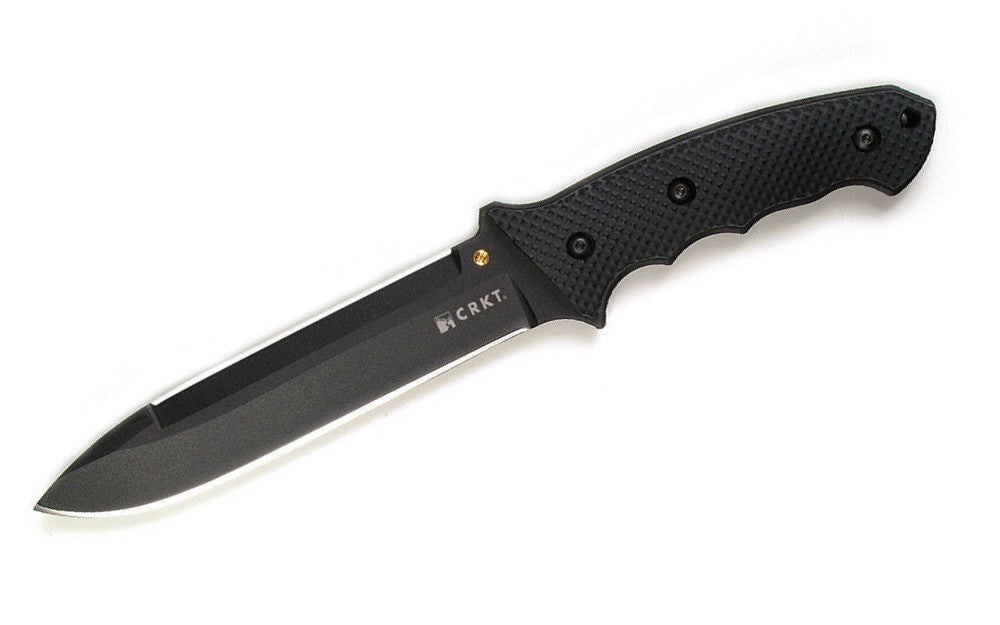 CRKT Elishewitz F.T.W.S. Razor Edge Black Blade 2060
About This Knife
Details
Full tang |

What's this?

A "full tang" blade is a solid piece of metal that extends fully through the knife's handle. A full tang blade is inherently stronger than a jointed or partial tang blade.

Razor sharp edge with a top chisel grind
Black powder coating to reduce reflection and prevent corrosion
Extremely versatile tactical sheath
Injection-molded Zytel handle for a secure, solid grip
Custom knifemaker, Allen Elishewitz, designs a wide range of products, from writing instruments and time pieces to superior fixed blades. For two years, he has worked on designing a new knife/sheath system that has resulted in the most superior tactical fixed blade ever manufactured by CRKT. This knife is called the Elishewitz F.T.W.S. - an acronym for "For Those Who Serve" because the knife was specifically made for them.
Every facet of the blade was carefully considered during the design phase. The Elishewitz F.T.W.S. has a full tang blade that is 6.30" long, made of SK 5 carbon steel. This material was used due to its considerable strength and toughness. The blade has a modified spear point tip which also features a full width to increase the tip's durability especially when used for penetration. For demanding tasks such as chopping or hacking, there is a flat grind at the top of the blade that is four inches long as well as a chisel ground edge. To make the blade glare-free and corrosion resistant, a black powder coating is used.
Like the blade, the injection-molded Zytel handle's design is well thought out. It has an aggressively textured surface which provides the user with a solid grip even in the worst conditions.  The handle also features a semi-hilt, finger grooves, and a parrot beak pommel (which has a lanyard hole) - all designed to provide maximum security. In addition, the handle is oval-shaped - swells at the middle and narrows towards the end.
The Elishewitz F.T.W.S. comes with a tactical sheath  - the custom black Cordura/Zytel sheath which features an injection-molded liner. The sheath has velcro adjustable dual belt loops. The sheath is designed for maximum versatility; it features many grommets that have a length of 550 paracord, a slotted sheath back for mounting on MOLLE gear, and an adjustable leg strap. For increased access and security, there are two removable security handle straps included. These features also ensure that the knife and sheath are qualified for jump and water operations. One other feature that makes this sheath stand out is the utility pocket that has a Fastex buckle. This allows users to carry various multipurpose tools, sharpeners, and folding knives within.
While there are numerous fixed blades in the market today, only Elishewitzh has created a fixed blade that combines their most successful features. This ensures that the blade is tough, well-balanced, very grippy, and competitively priced.
Specifications
Overall Length:
11.63 in.
Blade Length:

6.30

 in.
Blade Style:

Modified Spear

Blade Grind:

Double Edge Flat/Chisel

Blade Material:
SK 5 Carbon Steel, 

57-58 HRC

Blade Thickness:

0.23 

in.
Sheath:

Elishewitz F.T.W.S. Sheath

Weight (knife only)

10.8 oz.

Handle:
Textured Glass Filled Nylon
Videos