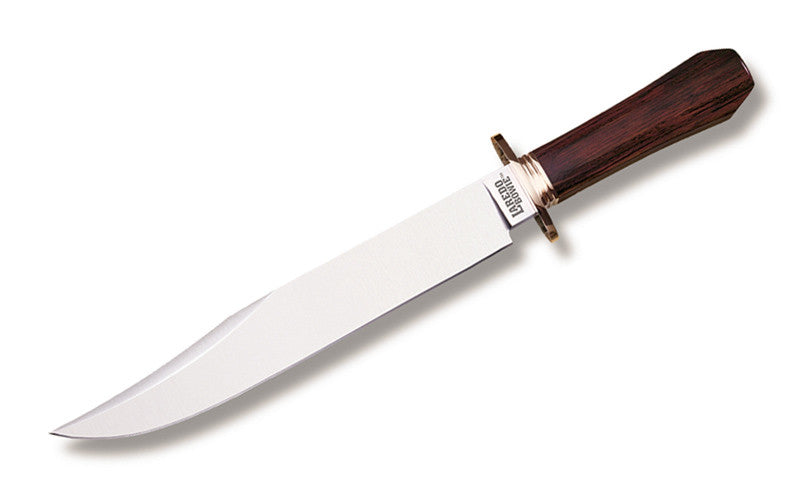 Cold Steel Laredo Bowie SK-5
About This Knife
Details
Rich, wooden handle with ergonomic design
Razor sharp blade made of SK-5 High Carbon steel
Sharpened clip point for enhanced versatility and efficiency
Mere words cannot describe how amazing the Laredo Bowie is. The blade is heavy and long, constructed from SK-5 High Carbon steel. The Laredo Bowie is a highly versatile and efficient weapon; it features a sharpened clip point that is four and a half inches in length, enabling it to easily perform a wide range of cuts and stabbing attacks including the deadly back cut.
The Laredo Bowie also features a rich, wooden handle that is equally tough and aesthetically pleasing. Its shape was specifically crafted to perfectly fit one's hand while still providing a solid and secure grip even when performing demanding tasks such as chopping, cutting, or stabbing.
The knife also features a one-of-a-kind guard and integral bolster made from one solid piece of brass - a perfect complement to the knife's razor sharp blade and superior handle. The bolster and the guard have exquisite detail and a mirror-polished finish.
An old-style designed leather scabbard completes the package.
Specifications
| | |
| --- | --- |
| Overall Length: | 15 11/16 in. |
| Blade Length: |  10.5 in. |
| Blade Style: | Bowie |
| Blade Material: | SK-5 High Carbon |
| Blade Thickness | 5/16 in. |
| Sheath: | Leather |
| Weight (knife only) | 16.3 oz |
| Grip | Faux Cocobolo Grip |
Videos