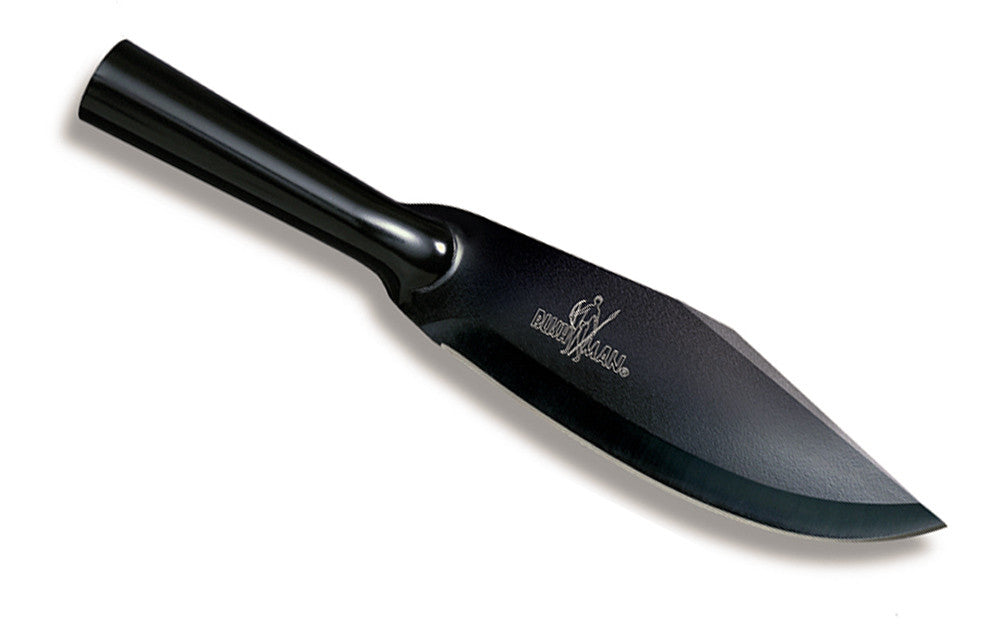 Cold Steel Bushman Bowie 95BBUSK
About This Knife
Details
Forged from a solid piece of steel for durability and strength
Hollow handle to store survival supplies
SK-5 High-Carbon Steel
Built-in fire-starter (Ferrocerium Fire Steel)
This knife is forged out of a single slab of 2.5mm thick, SK-5 high-carbon steel for extreme durability and strength. Unlike some other hollow-handle knives, there are no joints or seams between the blade and handle to weaken the knife. In fact, this knife has been tested to withstand over two tons of pressure on the blade-handle transition!
This blade has been carefully ground to an extra-thin edge, then honed and hand-buffed to razor sharpness. The hollow handle serves multiple purposes, allowing you to store survival supplies or even attach an extension rod for additional reach and leverage.
The Secure-Ex sheath features a Ferrocerium Fire Steel fire starter. Simply strike the spine of your knife on the starter to create sparks and easily get a fire blazing.
This knife is also available in a standard, straight-back blade.
Specifications
| | |
| --- | --- |
| Overall Length: | 12.25 in. |
| Blade Length: |  7 in. |
| Blade Style: | Bowie |
| Blade Material: | SK-5 High Carbon Steel  |
| Blade Thickness | 2.5 mm |
| Sheath: | NEW Secure-Ex® Sheath With Ferrocerium Fire Steel |
| Weight (knife only) | 10.1 oz |
| Handle | Hollow |