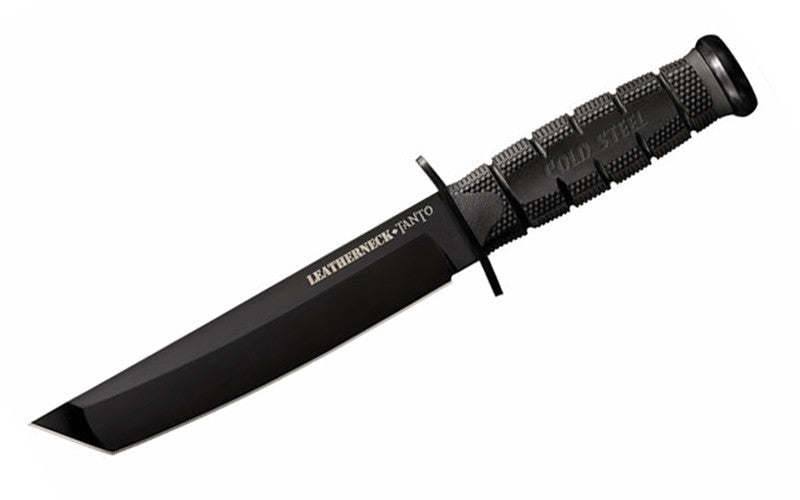 Cold Steel Leatherneck Tanto 39LSFDT
About This Knife
Details
Substantial double quillon guard |

What's this?

A "quillon guard" is the cross guard (like the bar on the letter "t") that protects your hand and knuckles.

Full tang |

What's this?

A "full tang" blade is a solid piece of metal that extends fully through the knife's handle. A full tang blade is inherently stronger than a jointed or partial tang blade.

Thick steel butt cap that can double as a hammer
Ever since Congress ordered all Marines to wear uniforms with a wide and stiff leather neck collar back in 1776, the term "leatherneck" has become a moniker for U.S. Marines. Wearing "The Stock", as it was known back then, served two purposes. It helped a Marine keep his head erect while on parade and it provided protection to the neck and jugular vein when in combat.
Every true American has respect, love, and admiration for Leathernecks. For two hundred years, countless Marines have sacrificed a lot for home and country. It is because of their personal sacrifice that this series of combat ready knives is dedicated to them.
The Leatherneck series are made of German D2 Steel w/ DLC Coating. There are two distinct blade styles in the series. One of them is the Leatherneck-Tanto.
The Leatherneck-Tanto has a Cold Steel style Tanto blade which is a razor sharp, 6.75-inch blade. The knife comes with a substantial double quillon guard made of thick steel to provide protection for the hand. At the same time, the guard ensures that there will be little to no interference when performing utility tasks with the knife.
The Leathernecks' extra wide full tang blade is completely enclosed in the deeply checkered Griv-Ex™ /Kray-Ex™ handles. The handles feature a unique finger trough which, along with the oval shape of the handle, offers amazing gripping power. The handles also feature a machined steel butt cap that can be used as an emergency hammer or to deal heavy blows in combat.
A durable, perfectly molded Secure-Ex sheath with a fully detachable, ambidextrous belt loop enables you to carry your Leatherneck knife safely in any kind of environment.
Specifications
| | |
| --- | --- |
| Overall Length: | 12 in. |
| Blade Length: |  6.75 in. |
| Blade Style: | Tanto |
| Blade Material: | German D2 Steel w/ DLC Coating |
| Blade Thickness | 5 mm |
| Sheath: | Secure-Ex® Sheath |
| Weight (knife only) | 12.2 oz |
| Handle | 5" Long. Griv-Ex™ & Kray-Ex™ |
Videos